WeChat was the most popular instant messaging app which takes 82% market share in the mainland China. But its users were experiencing confusions and problems while texting.  For example, its emoji features were partially overlapping with the iOS keyboard; the time of recall message feature is too short etc. I run a 4-week design sprint and eventually designed and created a prototype to improve user texting experience for the WeChat mobile app.
Research, Persona, Journey Map,
I wrote a questionnaire with a series of qualitative and qualitative questions which were focusing on the texting experience and problems on WeChat. Then, base on these questions, I chatted with three users who were primarily using WeChat for SMS communication. They are in between 30-45 years old, male and female, single and family.
After the chats, I wrote down all the answers on sticky notes and grouped them on a wall to make the affinity map to find out the problems. 
WeChat has become one of primary communication tools for business users between the U.S. and China. Since they have a tight daily  schedule and the time difference between the U.S. and China, users require some new features to improve their massaging experience. 
• No return key that causes user can not text a second paragraph.
• Input space is small on small screen size smart phone.
• User cannot schedule a message to be sent.
• Time limit of recall function is too short.
I used SCAMPER method to inspire all the possible ideas and solutions. SCAMPER refers to a series of thought sparkers or provocations which help designer to innovate on an existing product, service or situation by looking through different lenses. There are seven provocation lenses in the SCAMPER method:

Substitute

,

Combine

,

Adapt

,

Modify

(Also magnify and minify),

Put to another use

,

Eliminate

, and

Reverse

.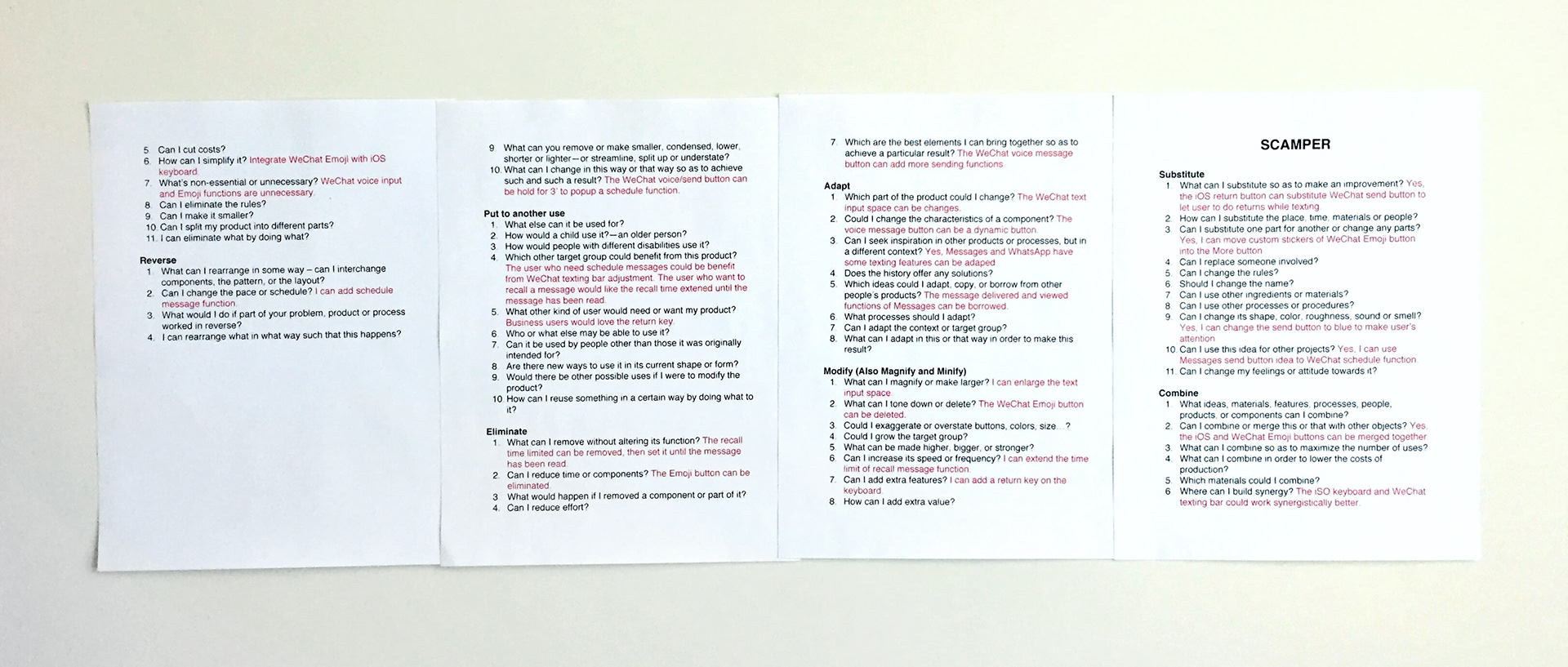 I draw all possible ideas on paper prototypes, then cut and assembled them to figure out the user flow for the final design solution. 
I reviewed about the project and process. First, I thought the research samples were too small leading the results that focused more on the needs of business users. Second, I should conduct a user test for the paper prototype that might optimize some features. The last, I realized WeChat has been launched for many years, the new features need to be introduced to users and allow them to take time learning about them.
In the next step work, I will expand research coverage. The next iteration research will include more personal users. I will balance the requirements for different user groups. Furthermore, the new features will be introduced by an animated intro while the app opening.